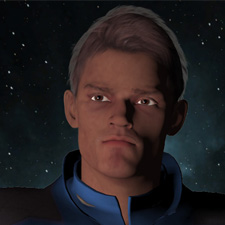 Rank:Second Lieutenant
Age: 22
Branch: Terran Confederation Space Force
Billet: Pilot trainee, 367th Training Wing, TCS Wellington
Campaign Role: Supporting character (Novel)
Bio
Assigned to the Wellington's training wing. Son of Senator Henry Cooper, a member of the Terran Confederation Senate Committee for Military Expenditures. Majored in studio art from the University of Auburn. President of his college fraternity, lead officer of his college Federalist political party interest group, and captain of the varsity hyperball team. His callsign "Champ" refers to being an All-Confederation fullback during his four years in school. Selected for flight training and attended Officer Candidate School with David Markham, Jeremy Pink, Haley Hasselbeck, Joe Hornaday, and Angela DeMarco.
Cooper is highly athletic and set several class records during his time in OCS (one of his more dubious records in which he outdrank more liquor shots then anyone of his peers), but he was ranked near the bottom of the class in academics, peer reviews, and military bearing. He is confident, overly cocky, and arrogant. Being a powerful Senator's son has given him every privilege ever since he was little, and that includes getting selected to train as a Confed fighter pilot.
Champ is a capable pilot in his own right and a decent shot, but has a reputation as an unreliable safety hazard, and a thrill-seeker. His classmates see him as the second incarnation of Maniac Marshall – but without the skills.