FROM: Rear Admiral Tolwyn, CINCWEAPONSDIVISION
DATE: 2012.03.04
It really is an exciting time to be a wingnut. It's been a ten days since the Saga's release and we wanted to share details on what we're working on.
Our SDK is shaping up nicely. It should make the process of modding possible (at least for tech-savvy folks). We're currently working on a mission creation tutorial and are hoping to see a number of Saga mods and tweaks once the SDK goes live.
Echoing what we stated on our forums, we're evaluating your feedback and will address issues that are being reported in subsequent patches. As a matter of fact, the very first Saga update is now available. It fixes a number of small issues that have plagued gamers since launch.
After the break, check out the patch notes for 1.1.0.7822.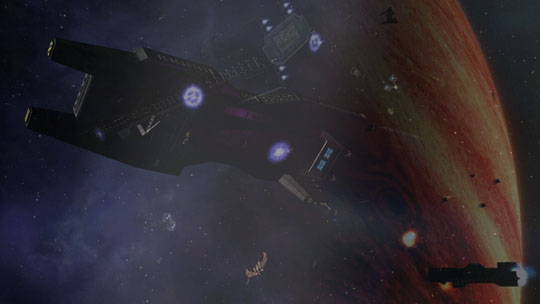 Patch Notes - March 27, 2011
Addressed an issue that was causing launcher to not save sound device properly on some systems.
Added tooltips for autopilot and glide usage.
Fiction viewer font replaced.
Alternative mouse steering is now available. You can choose between the WC and FS controls depending on your personal preference.
Losing the TCS Aurora would block the game's progress. This has been addressed.
-Tolwyn